Ready to use
Very useful and thus popular products in our range are the Strips & Monitors we produce at our own Service Department. C.F.T. produces various types of ready-to-use monitors formed by combinations of test fabrics from various origins; All this at your specifications, or according to standard norms. The advantage of this kind of monitors is that you can measure different aspects of your detergent or surfactants in a single wash test. Very useful for fast and extended tests.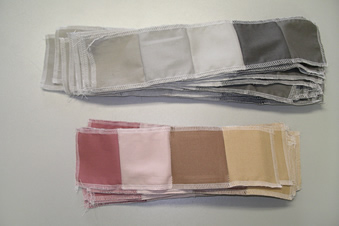 Strips
Strip type monitors are formed by 2 to 9 swatches, sewn together with the aid of an 'over-lock' sewing machine. This is the most common type of monitor. However any kind of combination and size of swatches you like is possible. CFT offers you the possibility to design your own personalized monitors. You can also select the size of the swatches from 8×8 cm to 30x30cm. Every customer can have several personalized strips, which can be ordered through a unique code which is only known to you and us.
Monitors

The carrier type monitor is used more and more. We offer them in several possible formats as also shown on the left:
A4-size carrier with up to 15 swatches of 4.5×4.5cm

35x45cm carrier with up to 20 swatches of 5x5cm

50x50cm carrier with up to 16 swatches of 10x10cm

45x45cm carrier with up to 9 swatches of 12x12cm
All these monitors are available on different substrate fabrics. Most used is PN-33 knitted polyester and PCN-1 woven polyester/cotton. You can let us know your selection and lay-out by using the special forms at the end of this brochure. Other formats of monitors are available on request.
Custom or Standard
For those unfamiliar with the use of strips we carry some Standard Strips, for specific performance measurement. However most of our customers like to combine their own special strip, you can select a combination of your own using our online order forms.

The CFT Standard strips consist of different types of swatches, all 12cm x 12cm. The All purpose monitor is a 35x45cm monitor with 20 5x5cm swatches. This is a very good monitor to give you an overall view of your test performance and could help you decide on your own custom selection.
The standard strips are:
C-BC-01 | C-BC-02 | C-BC-03 | C-BC-04 | C-BC-05 | C-BC-06
C-S-216 | C-S-05s | C-S-28 | C-S-08 | C-S-68 | C-S-81
All purpose monitor SM-04:
C-S-103 – Red Wine
Bleach

C-S-12 – Blackcurrant
Bleach
C-BC-03 – Tea
Bleach/Temperature
C-BC-02 – Coffee
Bleach
CN-11 – White Cotton
Redeposition

C-S-28 – Rice Starch




Amylase

C-S-26 – Corn Starch
Amylase

C-S-06 – Dressing
Amylase/mannanase

C-S-73 – Locustbeangum
Mannanase

 C-S-54 – Oatmeal/Chocolate
Cellulase

C-S-38 – Eggyolk/pigment
Protease
C-S-01 – Blood
Protease
C-05 – Blood/Milk/Ink
Protease
C-S-08 – Grass
Stain removal
C-S-02 – Cocoa
Stain removal

C-10 – Pigment/Oil/Milk
General
C-02 – Olive Oil/Soot
Particle/fats
C-S-132 – Extra discr. Sebum Bey
Fats
C-S-17 – Make-up
Particle
C-S-216 – Lipstick
Particle/fats